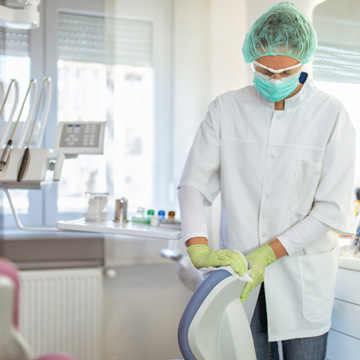 San Francisco, Marin, and Oakland, CA
If you live in San Francisco or Oakland, you're all too familiar with COVID-19 by now. California has been dealing with coronavirus outbreaks since March. As part of your attempts to avoid contracting the coronavirus, you probably have altered your routine or cut back on how often you leave home. But avoiding the dentist shouldn't be one of them. Today on our blog, find out why your chance of getting COVID at the dentist is incredibly low.
Infection control is nothing new in dentistry
Since the 1980s, dentists have prioritized the use of Personal Protective Equipment (PPE) to protect themselves, their staff, and their patients from infectious diseases. After the World Health Organization (WHO) declared COVID-19 to be a global pandemic in March, the American Dental Association issued guidance to its member dentists that recommended the use of the highest available level of PPE: masks, gloves, goggles, and face shields.
COVID-19 protocols at the dentist are working
How do we know? In mid-October, the American Dental Association (ADA) released a survey that found that less than 1 percent of all dentists in the United States had contracted the virus. Not only did this report represent the first major data gathering of COVID-19 rates among American dentists, but the case rate also ranked significantly lower than positivity rates in other healthcare-related professions. Moreover, it shows that the infection controls being used in the dental industry are working to combat the spread of COVID-19. This data also comes in the wake of previous guidance that tagged dentists as being at an exceptionally high risk of exposure to the coronavirus.
"The profession has taken this issue extremely seriously, and it shows," Marko Vujicic, PhD, the chief economist and vice president of the ADA Health Policy Institute, said in an ADA press release. "We will continue to track the rate of COVID-19 among dentists and other facets of the pandemic affecting dentistry so it can help inform the dental profession and other industries as well."
This report also illustrates that you can continue seeking necessary dental care even during the pandemic. You can't afford to neglect your oral health. Regular dental visits help protect you against the three major risks to your oral wellness: tooth decay, gum disease, and tooth loss. At Glen Park Dental, we are committed to following all protocols recommended by both the ADA and the Centers for Disease Control and Prevention to help protect everyone in the community from the risks of COVID-19. That means frequent sterilization, scrupulous hygiene protocols, and disinfecting all items, devices, and areas used during patient care after each appointment.
General Dentistry in San Francisco
You don't have to choose between protecting yourself from COVID-19 and receiving professional dental care. Our entire staff is committed to watching out for your overall wellness while also safeguarding your oral health. Don't put off much-needed dental care. Call Glen Park Dental today at (415) 585-1500 to schedule an appointment.
Glen Park Dental is proud to serve the needs of our patients in the areas of San Francisco, Oakland, and Marin in California.