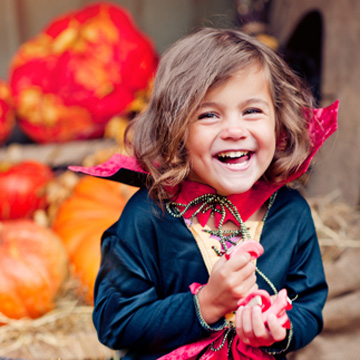 San Francisco, Marin, and Oakland, CA
Halloween, one of many holidays where we celebrate by consuming lots of sweets, is just around the corner. It's no surprise to most of us that sugar is one of the main culprits of cavities. But that doesn't mean you have to avoid sugar entirely. Today on the blog, Bay Area family dentists share tips on how to eat Halloween candy and not get cavities (well, reduce your risk of it anyways).
What time is it?
Many people assume that cavities are caused by eating too much sugar. While that is only partly true. It's best to limit your sugar consumption to a designated time instead of grazing from your kid's candy bowl all day long. It's not as so much about the amount that you eat, rather the timing. While eating too much candy might not be healthy for your waistline, the frequency with which you eat could cause damage to your oral health.
Bottoms up!
And to that, we mean water. Drink plenty of water while consuming acidic foods, or sugar actually helps cleanse your mouth. While drinking water or swishing it around in your mouth may help reduce your risk of cavities, it shouldn't replace regular brushing and flossing. But drinking plenty of water while you're eating your candy won't hurt your chances of avoiding cavities.
Beggars should be choosers
Did you know it actually matters, in terms of your oral health, what candy you choose? Gummy or chewy candies are prone to sticking to your teeth, increasing your chances of getting cavities. While we don't expect you to avoid these candies entirely, just be sure to take the necessary precautions when eating them. Also, keep in mind that acidic options like sour coated candies are just as bad, if not worse, for your oral health than sugar. So, just be sure to choose wisely when making your selection.
Don't slack on your oral hygiene routine
Lastly, be sure that you stick to your oral hygiene habits of brushing twice a day and flossing daily, specifically before you go to bed. By doing so, you're removing stuck-on plaque and biofilm that collects sugar and oral bacteria responsible for tooth decay. The longer these substances remain on your teeth, the more likely they are to cause damage, such as cavities. Our Bay Area general dentists recommend brushing with a soft-bristled toothbrush using fluoridated toothpaste and rinsing with an alcohol-free mouthwash twice a day for two minutes each time.
General Dentists in San Francisco, Marin, and Oakland
Halloween is often filled with family-friendly activities and gatherings. Whether you're gearing up for a fall party or looking forward to taking your kids trick or treating, commit to our tips to protect you and your family's oral health. It's also recommended that every family member receive a checkup and cleaning at least twice a year, which is the best way to catch early signs of dental diseases such as cavities.
To learn more about maintaining optimal oral health or reducing your risk of cavities, contact Glen Park Dental by calling (415) 585-1500. Our office is located in the Bay Area, convenient to Marin and Oakland in San Francisco.