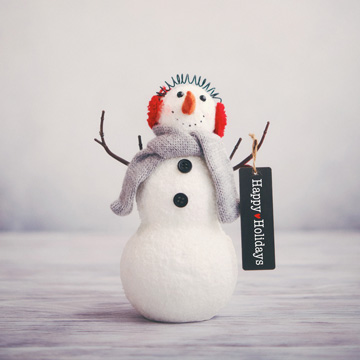 San Francisco, Marin, and Oakland, CA
Holidays are supposed to be joyful, but the "most wonderful time of the year" also is a time of extreme stress for many people. We stress about our kids going out on Halloween, or worry about our Thanksgiving dinner being cooked perfectly. We stress about Black Friday blowout sales, then finding the perfect Christmas or Hanukkah presents (at a price we can actually afford), all while trying to please every relative. Add all of the other holiday events and parties, and what you end up with is an extremely overcrowded—and stressful—season.
Stress can manifest physically in several ways: headaches, weight gain, weight loss, and nausea, to name a few. Another common, though not as well-known, manifestation of stress occurs in your mouth. Glen Park Dental is concerned that your holiday schedule may be hurting your oral health. Your teeth can be greatly affected by stress, and it's not always obvious right away. That's why your San Francisco dentists at Glen Park Dental gathered these stress management tips, so you don't have to add an unexpected trip to the dentist to your already-packed holiday schedule.
Tip 1) Exercising
Continuing your workout routine might seem impossible during the holidays, but you can't underestimate the importance of regular exercise. Hitting the gym, or maintaining your regular walking routine will help you stay calm when some of that unforeseen holiday stress crops up—like a phone call from that relative you've been avoiding. It will also buy you some much-needed "me time" during the all-encompassing holiday season.
Tip 2) Dietary Habits
Calorie and alcohol intake, for many people, tend to increase during the holidays. When your mother-in-law calls to change your plans for the tenth time, don't reach for the extra cookies. We understand that this can be a struggle, especially when your favorite cousin puts her world-famous fried turkey on the table, but oral health is the first thing that gets affected when we change what we put in our mouths.
Tip 3) Budget
Money can be one of the biggest stresses we deal with around the holidays. Between buying the perfect gifts, making elaborately concocted party foods, and the added travel expenses, the holidays hit our wallets first. A great way to lower stress is to start a budget at the beginning of your holiday season. If you don't overextend yourself, you won't feel as financially unstable. That will lead to a much less frantic holiday season.
Tip 4) Relax
Specifically, we mean relaxing your face and jaw muscles. Spasms in the jaw joint can cause a variety of dental problems that Glen Park Dental is prepared to handle, but these are problems we don't want you to have to experience. Clenching and grinding your teeth when you are stressed can do significant damage to your oral health. If you grind your teeth habitually, this can cause major damage to your teeth. Actively trying to relax your facial muscles can prevent that trauma.
Happy Holidays from Glen Park Dental
Glen Park Dental wants you to kick back and enjoy a cup of eggnog. We hope you have the best holiday season and remember these stress-reducing tips. When you are done dealing with the added weight of the holidays or if you're already feeling the dental pangs contact us at (415) 585-1500 to schedule an appointment if you're in the areas of Marin, Oakland, or San Francisco, California.