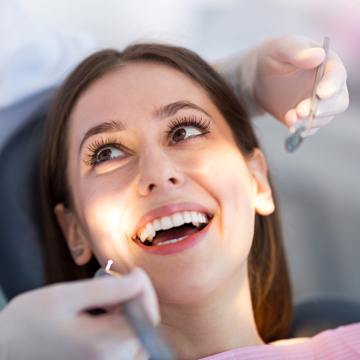 San Francisco, Marin, and Oakland, CA
Scheduling a dental appointment is not most people's idea of having a good time, even after months of social distancing. In fact, most people actually dread the thoughts of going to the dentist. If this sounds like you, Bay Area family dentists at Glen Park Dental want to share some tips on how to make going to the dentist enjoyable.
Consider Sedation Dentistry
Sedation dentistry is one of the easiest, most effective ways for anxious patients to receive much needed dental care. If you have a heightened gag reflex, fear of needles, dislike noises and smells of a dental office, or are anxious about dental appointments, ask about sedation dentistry in San Francisco. Glen Park Dental offers sedation dentistry that allows you to feel deeply relaxed, while still able to control your body movements and communicate.
Go During A Slow Time
When you call to make your appointment, ask to be scheduled during a slow time, which likely is in the middle of the day. This way, the dentist won't be running behind, shortening your wait time. You probably want to get in and get out as quick as possible. You may also want to schedule your appointment on a day that is not going to be hectic or demanding at work. You don't want to be sorting through work-related stress on top of anxious feelings over going to the dentist.
Ask What The Procedure Entails
Sometimes, patients are scared of going to the dentist because they do not understand what the procedure entails, or what to expect. Consider scheduling a consultation or speaking with the dentist before your appointment to ask about everything involved for your treatment, how long it will take, and what to expect afterward.
Share Your Fears
Let your dental care team know about your fear of going to the dentist so that they can take extra steps to ensure you remain comfortable. Also, establish a signal that you can use, such as raising your hand, in case you need the dentist to pause in the middle of treatment. Avoid jerking or trying to talk when the dentist is working in your mouth to prevent injury.
Reward Yourself Afterward
Who says that treats are for kids? If going to the dentist is a significant accomplishment for you, reward yourself! Maybe you buy a pair of shoes or a special tool that you've been eyeing for some time, or you order dinner at your favorite restaurant. You might decide that you will take the remainder of the day off of work to relax. Decide ahead of time what your reward will be so that you have something to look forward to after your appointment.
Sedation Dentistry in San Francisco
Being afraid of going to the dentist is something that many adults struggle with. Unfortunately, these fears sometimes can be so severe that people may avoid going to the dentist entirely, even when they need treatment. This only worsens your oral health and results in needing extensive dental treatments. If you are scared to go to the dentist, take good care of your teeth by brushing twice a day and flossing daily, as well as getting your teeth cleaned once every six months. Also, Glen Park Dental recommends addressing dental concerns as soon as they arise, rather than waiting until they become worse.
To learn more about sedation dentistry, or find out if you are a candidate, contact Glen Park Dental by calling (415) 585-1500. We welcome patients of the Bay Area, including Marin and Oakland.