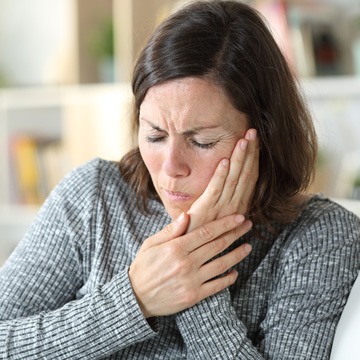 San Francisco, Marin, and Oakland, CA
Are you suffering from jaw pain? Do you notice popping or clicking sounds when you and open and close your jaws? Perhaps you're experiencing a limited range of motion in your jaws? If you can answer yes to any of these questions, then temporomandibular joint disorder could be the culprit. Also known as TMJ disorder or TMD, patients with this disorder may find their problems become chronic. What can you do? Read on as the San Francisco neuromuscular dentists at Glen Park Dental examine the first steps to treating TMJ disorder.
Talk to a Neuromuscular Dentist
Neuromuscular dentistry is a specialization of dental science that focuses on the alignment of the bite and jaw. A practitioner of neuromuscular dentistry has completed a rigorous course of post-graduate education and study. This training makes a neuromuscular dentist one of the ideal choices to make an accurate diagnosis of TMJ disorder, which may be mistaken for other conditions, such as migraines. At Glen Park Dental, we have two neuromuscular dentists in San Francisco that have studied this specialty at the prestigious Las Vegas Institute of Advanced Dental Studies.
At-Home Options
If one of our Oakland neuromuscular dentists diagnoses you with TMJ disorder, then treatment should start as soon as possible to keep the disorder from progressing and also address any associated symptoms you may be experiencing, such as pain. If your case of TMJ disorder has been caught promptly before major symptoms develop, a few routine choices could be enough to resolve the issue.
These include:
Taking smaller bites when eating
Eating a diet of soft foods
Avoiding alcohol or caffeinated beverages
Steering clear of any tobacco use
Stress relief exercises
Taking more time to relax and practice self-care
Practicing gentle massages or stretches of the jaw joints or muscles
Professional TMJ Treatment
When it comes to treating TMJ disorder, the National Institute of Dental and Craniofacial Research recommends that the least invasive method is the best.
Conservative therapies can do quite a bit to alleviate TMJ disorder and its symptoms, including:
The application of heat or ice packs to the face, jaws, or temporomandibular joint
The use of over-the-counter pain relievers or anti-inflammatory drugs, such as ibuprofen or naproxen
The prescription of more powerful pain medicine or muscle relaxers to alleviate jaw stiffness or discomfort
Using TENS (transcutaneous electrical nerve stimulation) to relax stiff jaw muscles
However, these treatment options should be used temporarily, as they help provide immediate relief. But to experience lasting relief from your TMJ disorder, additional therapies for TMJ pain may be needed. Glen Park Dental can often treat TMJ in San Francisco through oral appliance therapy. This entails wearing a customized mouthguard that brings the jaws into their preferred alignment, alleviating whatever is stressing the temporomandibular joint, relieving pain, inflammation, headaches, and other symptoms caused by your TMJ disorder.
TMJ Disorder Relief in Oakland, Marin, and San Francisco
Left untreated, the TMD symptoms can magnify and spread, leading to debilitating pain. You don't have to live that way. Stop TMJ disorder before it gets worse. Let the neuromuscular dentists at Glen Park Dental help. Schedule a consultation today by calling (415) 585-1500 and begin your journey of ending TMJ pain.