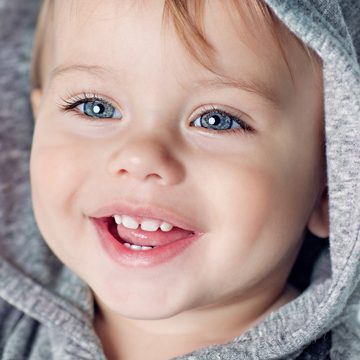 San Francisco, Marin, and Oakland, CA
As parents, you can set up your children for a lifetime of good oral health by maintaining a regular schedule of dental visits, starting early in life. The American Dental Association recommends you take your child to the dentist after their first birthday or when the first primary tooth emerges from the gum line—whichever comes first. Once you make that first visit, parents should continue taking their children to the dentist as scheduled every six months. Your San Francisco family dentists at Glen Park Dental want to educate our patients in the Bay Area of California on what to expect before their child's first dental visit, and why professional oral care is so important early in life.
Prevention is your best defense: Benjamin Franklin once said that an ounce of prevention is worth a pound of cure. Any health issue is easier to treat if detected early. At Glen Park Dental, we believe in the importance of preventive care: identifying any changes or potential problems in your dental health, often before they manifest identifiable or tangible symptoms. Also, increasing research has shown a link between oral health and overall health. Tooth decay and gum disease, for example, actually could lead to cardiac disease as bacteria in the mouth filters into the bloodstream.
Treating tooth decay: Baby tooth will fall out eventually as permanent teeth emerge, but if your child loses a primary tooth ahead of schedule, this can influence their future oral health. The other primary teeth may shift into the gap, not leaving enough room for the permanent teeth to emerge, and potentially causing an impaction. Tooth decay actually is experienced even among young infants; one of the leading causes of cavities so early in life is baby bottle tooth decay (also known as BBTD). This condition develops when a baby is sent to bed with a bottle of milk or some other liquid with high sugar content. This exposes developing teeth to more sugar than they are made to handle, accelerating decay and the formation of cavities.
Glen Park Dental recommends you give your child a diet with minimum sugar content throughout their first year of life, and never send your child to bed with a sippy cup or bottle with anything other than water.
What to expect from your child's first dental visit
When coming to our office in San Francisco, one of our Bay Area family dentists will go over the full health history of your child, and then examine the head, neck, teeth, gums, and bite. Your San Francisco pediatric dentist will review proper techniques for brushing and flossing your child's teeth. Fluoride varnish may be applied, and X-rays may be taken; Glen Park Dental is proud to use digital X-ray technology, which takes clearer and more precise images while emitting just a fraction of the radiation that is released by traditional X-ray machines.
We encourage parents to schedule an appointment for when their child is well rested—either in the morning or after naptime. Bring along a favorite toy or blanket to help soothe your child. Many parents also bring their camera to take pictures memorializing this momentous first visit to the dentist. You can trust Glen Park Dental to provide the highest level of oral health care for your child. Schedule your appointment today by calling (415) 585-1500.
Glen Park Dental serves families in the areas of Marin, Oakland, and San Francisco in California.