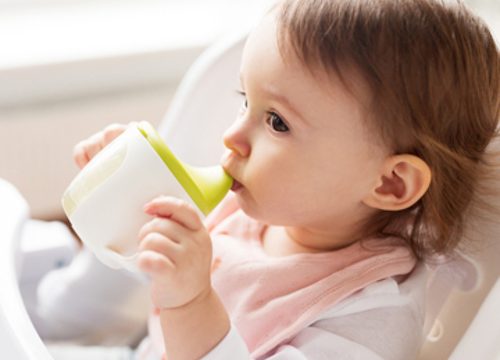 San Francisco, Marin, and Oakland, CA
Sippy cups are a godsend for parents. But, that is exactly who they were designed for – the parents. An engineer was fed up with his child spilling juice all over the floor, so he invented the sippy cup. However, these specially designed, leak proof cups are unnecessary for toddlers, and here's why. Plus, we will discuss some suggestions on what you can offer to your toddler instead.
Sippy cups are marketed to parents as a necessary part of a child's feeding. However, speech-language pathologists and dentists alike differ on this popular opinion. Do sippy cups provide convenience to parents? Absolutely! But, at what cost to a child's oral development?
Sippy cups get in the way of a child's development, especially overuse of the hard tipped kind. During a child's first year of life, the tongue pattern moves in such a way as to propel soft foods and liquids to the back of the mouth – referred to as the infant suckle. Beginning about one year of age, a toddler's tongue movements are more wave-like, similar to the same positioning of the tongue when making the letter "D" sound. This movement is used when eating and swallowing advanced textured foods.
However, prolonged use of a hard tipped sippy cup may cause the tongue to improperly function, unable to elevate, which may delay speech, and result in difficulty when eating and swallowing foods.
If the tongue is unable to elevate to its proper resting position, it rests in a forward position in the mouth, which leads to what is known as "paci-mouth," and results in an open mouth, even at rest. Paci-mouth is commonly seen in children who use a pacifier for a prolonged period. Keep in mind that occasional use of a hard tipped sippy cup may not interfere with a child's development; it is the constant, everyday use that makes a difference. The open mouth posture associated with thumb sucking or pacifier usage leads to weak lower jaw muscles, and mouth breathing.
Here's what you can offer instead of a traditional hard tipped sippy cup.
Pop-up straw cups, which can even be found to be leak proof, achieve the same convenience for parents, but without the risk of hindering the child's development. Once your child masters the ability to drink from a straw, consider trimming back the length of the straw so that it reaches to the tip of the tongue, and does not hinder the tongue from elevating.
Fun valved toppers, like what is offered by Good2Grow Spill-Proof Bottle Toppers that fit on their specially made juice bottles, can easily be refilled with water only.
Aluminum cup options with built-in straws are also ideal. Again, you can trim down the length of the straw once your child is comfortable with using one.
Sometimes, children with special needs require the use of a valved sippy cup. Be sure to discuss with your child's doctor which option may be best for them. It is important that most children learn how to drink from an open cup by 18 months of age, although the task may be messy at first.
To learn more about oral health, call the office of Glen Park Dental today at (415) 585-1500.
Glen Park Dental provides comprehensive, compassionate, quality oral health care for patients in the areas of Marin, Oakland, and San Francisco, California.