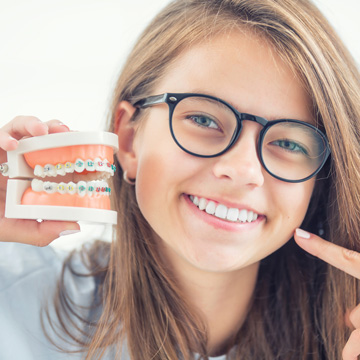 San Francisco, Marin, and Oakland, CA
If you're looking for a dentist to straighten your child's teeth, you probably want to find a reliable dentist that provides the right treatment. Not all forms of orthodontics are created equal, which is why it is important to do your research before choosing a dentist. Glen Park Dental is sharing some tips on how to choose the best dentist to straighten your child's teeth, and discuss early intervention orthodontics that do not involve actual braces.
Choosing the Right Dentist
To get started in your search, begin asking family, friends, and coworkers for their recommendations. Based on their suggestions and information, you can search online about the dental practices and narrow your choices. Once you have decided on a dentist that seems to meet your search criteria, schedule an interview with the dental office to ensure you have found the right match for your dental care. During your visit at our San Francisco dental office, we recommend evaluating the experience of scheduling the appointment, cleanliness of the facilities, friendliness of the staff, and how comfortable you were speaking with the dentist. Once you have more information, you can choose whether that provider is the correct fit for your needs.
Why Glen Park Dental is Different
Although several dentists offer orthodontic treatments to straighten your teeth, your leading general dentist in San Francisco, Glen Park Dental, specializes in treatments that address the overall functionality of your rest oral posture and bite balance. In other words, orthodontics isn't just about straight teeth, but how the upper and lower teeth come together when chewing or biting. Improper jaw alignment or an untreated orofacial myofunctional disorder, such as a tongue-tie or open mouth posture, will result in orthodontic relapse if not treated properly. The treatments, Crozat, ALF appliances, and orthotropics, are designed to help expand jawbone growth to reach its full potential, and the procedures are detailed below.
Crozat – Crozat is a sophisticated wire appliance that uses light force to straighten teeth by guiding your developing jawbone. Children can benefit as the device prevents overcrowding of teeth due to widening the dental arches resulting in jawbone growth. Crozat could also work for adults seeking orthodontic treatment.
ALF appliances – Advanced Lightwire Functional (ALF) appliances also use light force to straighten teeth and improve the overall bite while improving muscle function. ALF is especially successful in the cranial bone alignment in children. The ALF appliance is removable and does not require tooth extractions, unlike traditional braces.
Orthotropics – Orthotropics is a treatment not meant to straighten teeth but as a way to restore balance in your facial profile while correcting oral posture. By adjusting the growth pattern, straitening your teeth through other orthodontic methods are more successful, and orthodontic relapse is unlikely to occur. Also, using the orthotropic treatment can help in creating an adequate airway space and avoid common sleep conditions such as sleep apnea.
Through additional educational opportunities from the Las Vegas Institute for Advanced Dental Studies, your knowledgeable dentists in Oakland at Glen Park Dental can address most complicated conditions regarding misaligned bites, constricted airways, or poor rest oral posture. The treatment for these conditions could seamlessly help resolve your condition of crooked and misaligned teeth.
At Glen Park Dental, we are proud to partner with Dr. Ariana Ebrahimian, an experienced dentist bringing expertise in Biobloc Orthotropics, and neuromuscular functional orthodontics. Early orthodontic intervention can begin as early as age five, which is why routine dental exams are recommended starting by age one. If caught early, treatment is less invasive, and yields results quicker than waiting until the jawbones have already stopped growing.
Early Orthodontic Intervention in Marin, Oakland, and San Francisco, California
Choosing a dentist to straighten your teeth may not be an easy task. However, when your local dentist in Marin at Glen Park Dental has advanced education and extensive knowledge about possible treatments to best suit your oral care needs, the choice is easy. Contact our office today by calling (415) 585-1500 or request a consultation online to find out which advanced treatment is best for straightening your child's teeth.