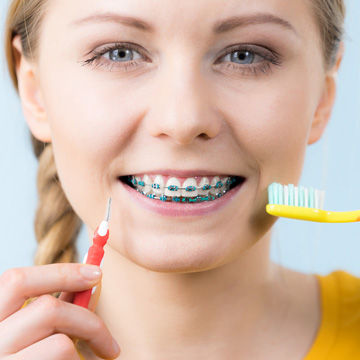 San Francisco, Marin, and Oakland, CA
Millions of Americans seek orthodontic treatment to correct crooked teeth or a misaligned bite. Braces have been a popular method of orthodontics for decades, but wearing braces also requires a greater commitment to your dental hygiene. Your San Francisco dentists at Glen Park Dental compiled these tips on some ways to maintain a high level of dental hygiene even when you have braces.
Diligent oral care is crucial during orthodontic treatment
Those brackets and wires that braces consist of make it difficult to keep your teeth clean. Specifically, the spaces around the brackets can become breeding grounds for the bacteria and plaque that cause cavities. Wearing braces can increase your overall risk for tooth decay, as well as sore and swollen gums or gum disease if you aren't diligent about your oral hygiene. If your dental hygiene becomes worse, it can extend the amount of time you need to wear your braces due to needing additional appointments to repair your damaged teeth.
Not taking proper care of your teeth while having braces can have an aesthetic impact as well. If you don't keep your teeth clean, not only could bacteria and plaque accumulate, but your teeth could become stained. This is why many patients have square, discolored areas on their teeth when their braces are removed. It might take a professional dental whitening treatment to correct these stains.
Follow this guide to maintain squeaky-clean teeth even with braces
By spending just a few extra minutes every day, you can ensure braces won't compromise your dental hygiene.
Get the right tools for the job – Invest in a good inter-dental brush. This tool can clean between your brackets and underneath wires to remove any accumulated debris. Specifically, a 4-tuft interproximal brush also can be a good option to clean between teeth, especially if there are any gaps or spaces in your smile. There are also special varieties of floss designed for orthodontic purposes that use a threader to get the floss into the crevices between your teeth.
Don't forget the in-between spaces – Now that you have an interdental brush and a floss threader, be sure to use them each and every time you clean your teeth. Dental problems happen when debris and food particles are allowed to linger between your teeth. Remember to clean all the nooks and crannies, especially for hard-to-reach back teeth.
Flossing is a must – The majority of Americans don't floss every day as they should, but flossing is essential if you have braces. A gentle technique is also necessary—gently pull the floss to your gum line and work the floss in an up and down motion without jamming it into your gums. Make sure to floss between all of your teeth.
Keep it soft – Never use a hard-bristled toothbrush or a rough technique when brushing your teeth with braces. Instead, place your toothbrush at an angle to help it reach a larger surface area, then use a smooth, circular motion when brushing. Sawing your toothbrush back and forth or brushing too hard can lead to gum irritation, increased tooth sensitivity, and even wear away your dental enamel.
With a little extra diligence and time, combined with the right materials, your dental hygiene will remain on point throughout your orthodontic treatment. If you have any questions about keeping your teeth clean while wearing braces, or you'd like to find out which orthodontic treatment is best for you, call Glen Park Dental today at (415) 585-1500 to schedule a consultation. Ask us about Invisalign, which is an orthodontic option that uses removable clear aligns that make caring for your teeth a breeze. We're proud to serve patients in the areas of Marin, Oakland, and San Francisco, CA.