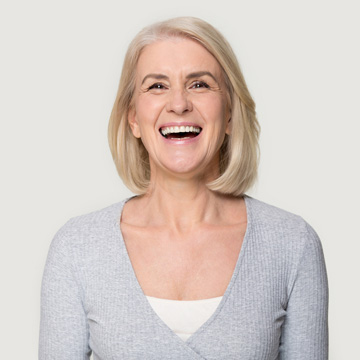 San Francisco, Marin, and Oakland, CA
Dental implants are a lifetime solution to replace missing teeth. Crafted from materials that make it look and feel like your natural teeth, dental implants are a permanent replacement option. Even though dental implants require surgery, you should not experience pain during the implantation procedure. After surgery, the skilled dental implant dentists in San Francisco at Glen Park Dental provide detailed recovery information based on your treatment. For a clear picture of what to expect, we provide some detailed information about the process and your recovery below.
What is a dental implant?
A dental implant is a combination of a titanium post inserted into your jawbone and a dental crown, attached by an abutment, to provide functionality and aesthetics. The inserted post creates stability for the dental crown and stimulates your jawbone, similar to your natural tooth roots, preventing jawbone degradation. It typically takes about three to six months for your jawbone to fuse to the post after implant placement. The experienced Oakland implant dentists will determine when your healing is complete and secure a permanent crown to the post, fully restoring your smile.
Is the dental implant procedure painful?
At the beginning of the procedure, you will receive a local anesthetic to help maintain your comfort throughout the procedure. Patients who harbor a fear of the dentist or who struggle with dental anxiety have the option for dental sedation. It is best to share your fears with your sedation dentists in Marin so that we can ensure a comfortable treatment process.
Is there be pain after the dental implant placement?
Most surgical procedures cause swelling and minor discomfort after the procedure. However, a majority of dental implant patients explain that the implant process is less painful than getting a tooth extracted. Discomfort caused by the dental implant procedure is easily manageable with over-the-counter pain medications. The experienced dental implant dentist in San Francisco explains that slight gum tenderness may occur, but it should subside within a few days. If you experience intense pain or excessive bleeding, contact our office immediately for instructions.
How long is the dental implant recovery period?
Every patient's body varies in healing time, and not all procedures are alike. Many patients can go back to work the same day of their procedure. Although the posts may seem stable, it requires three to six months for healing before a dental crown gets added. The highly trained Bay Area implant dentists advise patients to consume a diet of soft foods, rest as much as possible, and avoid exertion to reduce their risk of complications for the first day or two following surgery. Continue brushing and flossing regularly, and complete your post-op dental visit for the dentist to monitor your healing process.
What are alternatives to dental implants?
There are other alternative treatments available if you are not a suitable candidate for dental implants. Depending on your needs, speak with your dentist about partial dentures or installing a dental bridge to close the gap from your missing tooth. The Marin dental implant dentists explain that other procedures are available, but they are merely a temporary solution. For long-lasting results that support your overall health, dental implants are the only treatment that resembles your natural teeth while preventing jawbone loss over time.
Dental Implants in Marin, Oakland, and San Francisco, California
Dental Implants can successfully restore your smile and last a lifetime if well cared for. When speaking with the San Francisco board-certified dentists, ask questions about the procedure so that you become more comfortable with it. Feel free to schedule a consultation to see if dental implants are the right choice for you. Call Glen Park Dental at (415) 585-1500 or request a consultation online now to begin your journey back to a perfect smile.