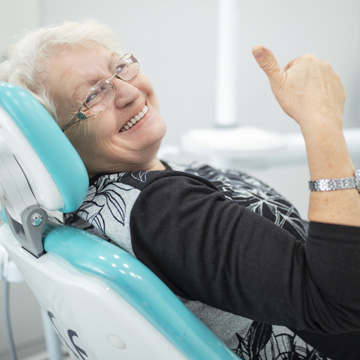 San Francisco, Marin, and Oakland, CA
Dental implants are used to replace missing teeth. Most known for their stability and permanency, dental implants are often the chosen treatment for patients with strong jawbones. Since dental implants fuse to your jawbone, they are the closest solution to your natural teeth in restoring your smile. Your implant dentists in the Bay Area at Glen Park Dental are committed to the success of your procedure, so we are sharing information about dental implant aftercare and what you need to know.
Immediately After Surgery
After your surgery is complete, we will provide at-home care instructions. However, to ensure you are prepared for the recovery process, we are outlining some of those aftercare needs below.
If you are receiving sedation dentistry during the procedure, you will need to set up transportation to and from the appointment as well as have someone stay with you for a few hours after your arrival.
When you arrive home, use an extra pillow to elevate your head while resting and avoid any strenuous activity such as exercise for the first 24 to 48 hours.
Applying an ice pack and biting down on gauze pads for the first one to two hours should help cease bleeding. Once the bleeding has stopped, use an ice pack for about 15 minutes at a time for the first 12 hours to reduce swelling.
Use caution when consuming food for the first 24 hours. Keep your diet limited to liquids or soft foods, and avoid using a straw. After eating, you can rinse your mouth gently with water to keep food away from the surgical site.
After the procedure, some pain and discomfort may occur, so take any prescribed antibiotic medications and pain medications as directed.
Protecting the surgical area is critical to the healing process, so keep your mouth clean by using any prescribed mouth rinse as directed. You can also lightly brush the surgical area after the first day. In addition to other instructions, your Bay Area implant dentists at Glen Park Dental recommend that you stop smoking to reduce infection or other complications.
Undue swelling, prolonged bleeding, or severe pain any time after your surgery could be a cause for concern. Therefore, if you have any of these symptoms, feel free to contact your implant dentists in San Francisco at Glen Park Dental.
Long-term After Care
Even though immediately after your dental implant surgery is critical, the days and weeks ahead could also be important to your healing process. Therefore, below are a few more ways to continue a healthy healing process.
Continue with your oral health care regimen of keeping the implant site clean with brushing and rinsing daily, being careful not to brush directly over the surgical site. Also, continue to refrain from smoking to help the healing process.
Ensure you attend any follow-up appointments as your board-certified dentists in San Francisco at Glen Park Dental need to closely monitor your healing process and identify any potential problems that may develop.
If anything does not look or feel right after closely watching the surgical area, contact your dental implant surgeon in Oakland at Glen Park Dental.
Dental Implants in Marin, Oakland, and San Francisco, California
Although dental implant surgery is in-depth and could cause some level of discomfort, once the healing process is over, you should have a restored smile that is ready for the Hollywood red carpet. If you have any questions or concerns during or after the dental implant process, feel free to contact Glen Park Dental by calling (415) 585-1500 or connect with us online. Glen Park Dental proudly serves the Marin, Oakland, and San Francisco areas of California.