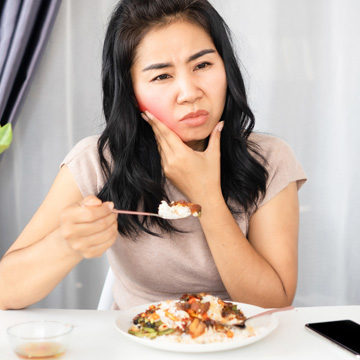 San Francisco, Marin, and Oakland, CA
Dental emergencies rarely occur when you're prepared or have an appointment already scheduled. Although it can be stressful and traumatic, a calm, quick response can relieve pain, restore function, and have you smiling confidently once again. Our San Francisco emergency dentists at Glen Park Dental share on the blog today tips on dealing with the five most common dental emergencies so that your oral health remains protected.
Toothache
Toothaches can be a sign something is wrong and garner immediate attention. Our emergency dentists in Oakland recommend gently using a soft-bristled brush and floss to clean painful areas to avoid aggravating the tooth or gums. Then, follow with a warm salt-water rinse to help reduce bacteria, and take over-the-counter pain medication to manage discomfort. However, avoid placing aspirin directly on your gums or tooth as it may cause a burn. Finally, contact our office to schedule an emergency dental appointment.
Avulsed Tooth
Getting a tooth knocked out can be an overwhelming experience. However, immediately contacting our emergency dentists near you in the Bay Area is the best next step to take. In some cases, a tooth knocked loose may be salvageable with treatment. However, if the tooth is avulsed or knocked out completely, a tooth replacement treatment is likely the best choice. Dental bridges or implants are common ways to replace a missing tooth. You can speak with our Bay Area emergency dentists to discuss which option is best for you.
Loose Tooth
Loose teeth can create additional problems if not immediately addressed. Whether your tooth gets pushed outward or inward due to an injury or impact, you can attempt to reposition it by applying light pressure with your fingertip. However, our family dentists in San Francisco advise patients not to use forceful movement if the tooth is unwilling to move. Instead, contact our dentists to schedule an appointment as soon as possible to prevent additional damage.
Chipped or Broken Tooth
Discovering a chipped or broken tooth can cause uneasy feelings, mainly when it's in a highly visual area. Since harmful bacteria can reach tiny fissures, rinse your mouth with warm water to remove bacteria and debris. Then, keep the site clean until you arrive for an appointment at our Oakland dental office. We can repair your chipped or broken tooth with dental bonding, veneers, or a dental crown to restore your smile through cosmetic dentistry.
Soft Tissue
The soft tissues inside your mouth are susceptible to occasional damages. For example, injuries to the cheeks, tongue, or lips could cause slight to significant bleeding due to an injury. Therefore, use a clean cloth or gauze piece to apply firm pressure to the damaged area for 15 minutes. Our dentists in Marin advise patients to immediately call their primary care physician or us if the bleeding persists. Extensive bleeding could be a sign of severe damage requiring immediate treatment. However, after applying pressure for 15 minutes and the bleeding stops; clean the area with a warm cloth and intermittently apply a cold compress to reduce pain and swelling.
Dental Emergencies in Marin, Oakland, and San Francisco, California
Even though our information cannot prevent accidents, it can help you know what to do the next time you need emergency dental care in the San Francisco area. If you need emergency dental care, please contact information for Glen Park Dental at (415) 585-1500.