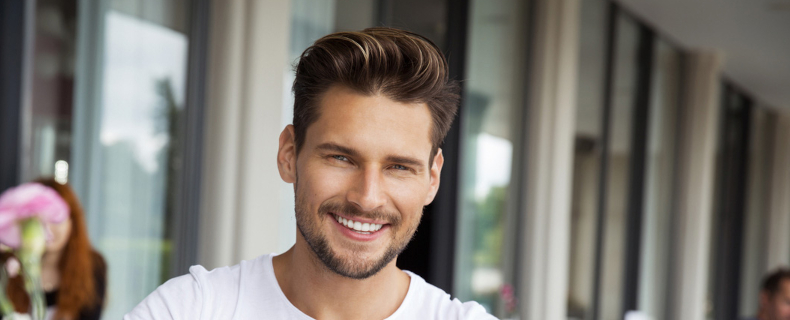 San Francisco and Marin CA
Do you find yourself comparing your smile to the brightness and whiteness of smiles you see on TV or in magazines? Celebrities seem to have perfect teeth, right? The trick actually isn't much of a secret at all. It's cosmetic dentistry! You don't have to live in Hollywood to have a celebrity smile, and our cosmetic dentist in San Francisco is here today to tell you how.
Teeth whitening
Professional teeth whitening can erase years of age from your smile and face, and it's the most affordable and accessible way to brighten your smile. No matter how often you brush your teeth, they can become dingy and yellow over time due to age and the foods and beverages you consume, including wine, soda, coffee and tea. While you can spend a lot of time and money on over-the-counter teeth whitening kits, professional teeth whitening isn't much more expensive, and it's high-powered, meaning it usually takes only one visit to our San Francisco cosmetic dentist's office to see dramatic and long-lasting results.
Porcelain veneers
If you have teeth that don't respond to teeth whitening or are cracked, chipped or broken, porcelain veneers may be the solution. Veneers are thin porcelain "shells" that adhere to the surface and chewing surface of the teeth. They cover small chips and even change the appearance of teeth that are slightly twisted, crooked, uneven, gapped or otherwise imperfect.  Veneers are the best, most discreet secret to a Hollywood smile. They permanently bond to your teeth and can last a decade or more with proper care and maintenance.
Invisible aligners
If your teeth are too crooked or misaligned for veneers to help, invisible aligners — an alternative to traditional metal braces — may be the perfect choice for you. Invisalign is the leading provider of invisible aligners. They are clear, plastic trays that discreetly allow you to straighten your teeth in usually half the time it takes metal braces. The custom-made trays are worn 22 hours a day for two weeks then switched for smaller trays, slowly applying pressure to gently shift the teeth into their proper alignment. The aligners are removable, meaning you can take them out when eating and drinking anything but water and when it's time to brush and floss your teeth. Many adults choose Invisalign for orthodontics because they are comfortable and practically invisible and results can be achieved in as little as 12 months, although treatment length will vary.
Smile Makeover in the Bay Area
The decision to invest in cosmetic dentistry isn't one anyone should take lightly, and any dentist that you trust to makeover your smile should be the best. That's why you should contact our experienced Bay Area cosmetic dentists at Glen Park Dental today. If you're curious about having a Hollywood smile that rivals the stars, call us at (415) 799-3900, or reach us online to schedule a consultation today.