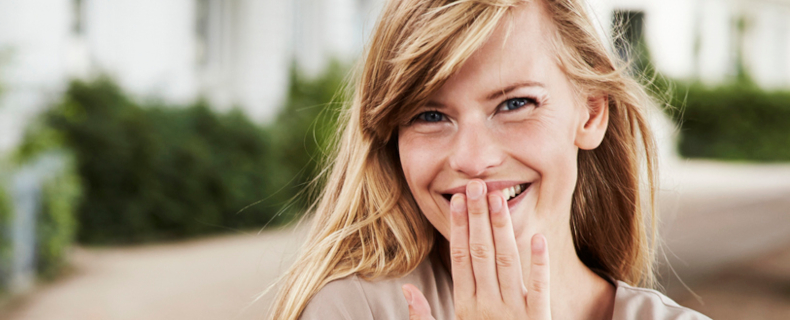 San Francisco, Marin, and Oakland, CA
Does your smile embarrass you, or do you try to avoid smiling at all costs? A less-than-perfect smile could deliver a blow to your self-esteem, affecting many areas of your life, whether socially, in your career, or intimately. But it doesn't have to be this way! Cosmetic dentistry is the secret to rejuvenating any smile, whether your teeth are badly damaged or missing several or more teeth. At Glen Park Dental, our Oakland dentists offer solutions to help you feel confident when smiling.
What can be done about my smile?
The first step when considering a smile makeover in Oakland is to look at your smile, paying close attention to any details you don't like. But the problem for most people is that they don't know where to start, or they aren't sure what to pinpoint. So, here is a list of questions to keep in mind as you assess your own smile.
Do your gums cover your teeth too much, making them look short and stubby?
Do you have crooked teeth?
Are your teeth stained or discolored?
Do you see any dark, gray, or black spots on your teeth?
Are any of your teeth chipped or cracked along the edges (specifically the front teeth from canine to canine)?
Do your gums appear a healthy light pink, or are they inflamed, red, and bleed easily?
How do your upper and lower teeth come together when you smile?
Do your upper teeth protrude over your bottom teeth?
Do your teeth not come together at all when you close your jaw?
Are your lower teeth jetting out past your top teeth?
Are any of your teeth gapped?
Do you have missing teeth?
Do you have old dental work that doesn't match the color of your surrounding teeth and looks obvious?
Are the chewing surfaces of your teeth worn down and flat?
Are your gums receding?
If you answered yes to one or more of these questions, you could benefit from cosmetic dentistry. To figure out which procedures are right for you, we suggest starting with a consultation at one of the best cosmetic dentists offices in Oakland. During this visit, the dentist assesses your oral health and may take digital x-rays to look at the health of your tooth roots, jawbone, and structures below the gumline. The dentist also will discuss with you the aspects of your smile that you wish to change or improve. Together, you can decide which treatments are right for you.
Popular Smile Makeover Treatments
Depending on your smile needs and timeline, cosmetic bonding, porcelain veneers, or dental implants are the most popular cosmetic dental procedures used in smile makeovers.
Cosmetic Bonding is a single visit treatment that uses composite material to fill cavities or conceal minor tooth imperfections like a crack, chip, enamel erosion, gaps, or help slightly twisted teeth appear straighter. The material is color-matched to the precise shade of your tooth for natural results.
Porcelain Veneers are handcrafted using top-quality dental porcelain that looks just like real dental enamel. Veneers are permanently attached to the front surface of your teeth and can be used to treat all teeth showing in your smile line. Oakland cosmetic dentists often recommend veneers for patients wanting to completely rejuvenate their smile and hide multiple tooth imperfections at once. The results are astounding and can last for years with proper care and maintenance.
Dental Implants are ideal for replacing one or more missing teeth. Tooth loss in the U.S. is quite common among adults, and the risk of additional tooth loss increases with age. But at Glen Park Dental, we can replace missing teeth with sturdy, long-lasting dental implants that look, feel, and function like a natural tooth. This is especially helpful for patients that do not wish to get a partial denture or dental bridge. Dental implants can last a lifetime with good oral hygiene and preventive care.
Smile Makeover in Oakland, Marin, and the Bay Area
Thanks to advancements in cosmetic dentistry, you no longer have to settle for an embarrassing smile. At Glen Park Dental, we can discuss your smile needs and create a smile design that is just right for you – one that makes you feel proud and confident to smile. It would be our pleasure to help you along this journey. To get started, contact Glen Park Dental by calling (415) 585-1500 or visit our website to schedule a visit.