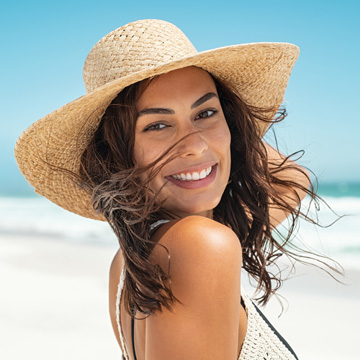 San Francisco, Marin, and Oakland, CA
Improving your smile may not be as complicated or expensive as you think. Although past procedures were time-intensive and costly, you can now treat your crooked, discolored, or misshapen smile quickly and inexpensively with cosmetic dentistry. With veneers, the Bay Area cosmetic dentists at Glen Park Dental can help improve your smile and restore it to one worthy of the red carpet. Find out more about the process of transforming your smile with veneers below.
Veneer Basics
Veneers are a shell-like covering for your teeth made from porcelain. Although ultra-thin, veneers are durable and won't stain from coffee, tobacco, wine, or other staining agents in food and beverages. Veneers can last years with proper care, but some may need replacement when damage occurs. Composite veneers are less expensive than porcelain options and can easily receive same-day repairs. However, our Marin cosmetic dentists can advise which option is best for your case during your initial consultation.
Aspects of Transformation
Veneers can cosmetically restore your smile from one tooth to your whole mouth for teeth that are misshapen, discolored, uneven, gapped, or crooked. During your consultation with our San Francisco board-certified dentists, we would like to identify your goals and specific treatment areas. Therefore, to help uncover your cosmetic dental needs, ask yourself the following questions before your smile makeover consultation.
Do your teeth differ in size?
Do you have gaps in your teeth?
Do you want to change your crooked teeth?
Are you happy with the shape of your teeth?
Does tooth discoloration keep you from speaking or smiling?
Based on your assessment, how many teeth do you want to correct?
Are you concerned with one tooth, a section of teeth, or your complete smile?
Do you have a single discolored tooth, or do you suffer from general staining or dinginess?
Once you explore your desires by answering the above questions, you should have a clear picture of how our professional dental team can help you create the smile of your dreams. Whether you have one crooked tooth or all of your teeth are uneven and crooked, permanent veneers can provide you with the perfect smile.
Veneer Benefits
The main veneer benefit is the flexibility in color and shape to match your surrounding teeth. Whether you have one or more teeth treated with veneers, your smile can appear flawless. Veneers can close gaps, straighten crooked teeth, and restore discoloration for years with proper oral health care and regular dental visits to your Oakland cosmetic dentist. Also, veneers can help restore self-confidence and reduce anxiety in social situations.
Veneers in Marin, Oakland, and San Francisco, California
When you avoid smiling because your teeth are gapped, crooked, discolored, misshapen, or otherwise not what you want, your confidence decreases. With veneers, you can correct those concerns quickly, permanently, and discretely, so no one can tell your dental history. Restore your smile and self-confidence in social situations with veneers. Call Glen Park Dental at (415) 585-1500, the Bay Area cosmetic dentists near you, to request a consultation and correct your smile today!