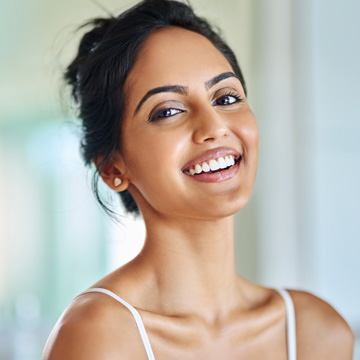 San Francisco, Marin, and Oakland, CA
Porcelain veneers are rising in popularity for non-invasive correction of common dental problems like gapped, twisted, uneven, or discolored teeth. The custom-designed thin shell made from porcelain covers the front of your natural teeth to improve your smile aesthetics. Unfortunately, misconceptions about veneers circulate and could influence your decision about the treatment. Therefore, on today's blog, the experienced cosmetic dentists in San Francisco at Glen Park Dental share the five myths about veneers and what to know instead.
Myth 1: Veneers are for cosmetic purposes only
Although veneers are an excellent choice for cosmetic purposes, they can also address additional oral problems such as gaps and misaligned teeth. When veneers cover your teeth, you may notice improved oral function and a more substantial bite. Depending on the veneer location, you may even catch a change in how you speak, such as when veneers are used to close a gap between the front two teeth.
Myth 2: Veneers look unnatural
Through continuous development, the dental industry now has a product that can look and function like a natural tooth. Veneers are easily shaped and tinted to match your natural size and tooth color so that the porcelain piece seamlessly blends with the rest of your smile. However, if you choose to have all of your front teeth covered with veneers, you may wish to choose a whiter shade of porcelain to give your smile a brighter appearance.
Myth 3: Veneers are painful
Even though some patients may report slight discomfort, you should not feel pain during or after the procedure. The Marin family cosmetic dentist near you will administer local anesthesia to numb the area before preparing and permanently placing your veneers to prevent painful sensations. Once the procedure is complete, the numb feeling should wear off. You should not feel severe pain, only slight discomfort at the anesthetic injection site.
Myth 4: Veneers require multiple dentist appointments
Contrary to popular belief, you can have a new veneer smile within two office visits depending on the number of veneers you need. In some cases, you could leave our office with a brand-new smile the same day. Therefore, don't allow a few appointments to keep you from a beautiful smile. Call us today to schedule your appointment.
Myth 5: Veneers are costly
When veneers became a new treatment to the dental industry, they were an expensive procedure. With changes over time, veneers are more affordable now. Veneers are an excellent investment that boosts your oral function while promoting positive oral health. Once you have veneers, you could potentially save time and money for advanced oral condition treatments. To find out more about how much veneers will cost, please schedule a consultation with us.
Veneers in Marin, Oakland, and San Francisco, California
If you have crooked, gapped, and misaligned teeth that affect your confidence, consider veneers to improve your smile. There is no need to get discouraged because there is a solution to repair your smile. Fortunately, the Oakland cosmetic dentists at Glen Park Dental rescue discolored or disfigured smiles with veneers. To find out more about veneers or to schedule a consultation, feel free to contact us to schedule an appointment by calling (415) 585-1500 or request a consultation today.