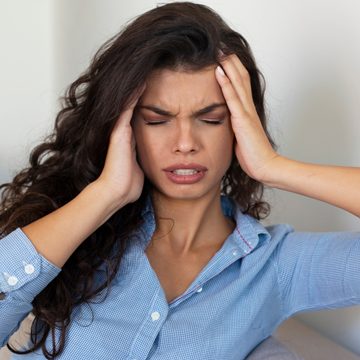 San Francisco, Marin, and Oakland, CA
Everyone experiences headaches at some point, and typically an over-the-counter pain reliever does the trick so that you can get on with your day. But, what happens when your headaches reoccur time and time again? In some cases, recurring headaches are connected to a disorder that your dentist can treat – temporomandibular joint disorder, sometimes called TMJ disorder or TMD. Find out how Bay Area dentists at Glen Park Dental can help you get rid of your recurring headaches by receiving TMD treatment.
Let's take a look at the connection between your jaw joints and those frequent headaches
Your jaw joints are located on each side of your face near your ears. If you have problems with these joints, you likely experience pain, especially when opening your mouth wide. You may also have an inability to open your mouth wide at all, experience popping or clicking sounds when your mouth moves, ringing in your ears, and frequent headaches.
Headaches can stem from TMJ disorder because of the nerves and muscles that connect from the jaw to the head and neck. When the jaw joints experience dysfunction, they can become inflamed, as blood flow is restricted, sending pain signals to the brain. If this is the cause behind your frequent headaches, it could explain why you have headaches so often. While pain relievers can nix a headache, they don't do anything about the frequency in which your headaches occur. The symptoms of TMJ disorder are so far-reaching that it's difficult for many general practitioners to pinpoint the issue. So, if you are tired of having those recurring headaches ruin your life, and you don't want to be dependant on medication forever, consider getting a TMJ evaluation by Glen Park Dental.
How the dentist can help stop your headaches
Our dentists employ state-of-the-art technology that can determine the precise dysfunction with your jaw joints, down to the most minute misalignment. Once we determine the degree of imbalance, we can work to stabilize your jaw so that you get relief from your headaches and other TMJ-related discomfort or pain. Sometimes, part of that treatment may include rebuilding your bite by repairing broken, damaged, or missing teeth. In other cases, a custom-made oral appliance may be needed for you to wear at night to help realign your jaw, providing you with relief. Treatment, however, is going to vary and is determined on a case by case basis, with the goal being to provide individualized treatment for any patient suffering from TMJ disorder.
If you experience symptoms related to TMJ disorder, or you are tired of dealing with recurring headaches, it is time to get a TMJ evaluation to determine if this disorder is the cause of your pain. You don't have to live life in a debilitated state, missing out on family fun, work, activities you enjoy, and life in general. At Glen Park Dental, our solutions aren't just going to mask your symptoms, but provide relief to the source of your pain instead. If you would like to learn more or to schedule a consultation, just call our office at (415) 585-1500. We welcome patients from Marin, Oakland, and San Francisco in California.