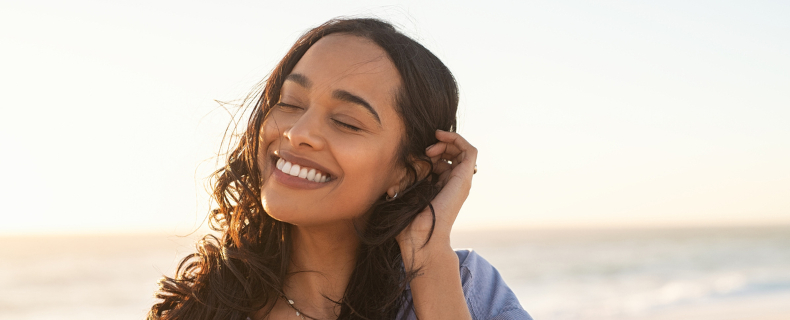 San Francisco, Marin, and Oakland, CA
According to a recent study, most Americans—three of every five respondents—don't like the way their smile looks. Are you one of them? One of the fastest and easiest ways to transform the appearance of your smile is to whiten your teeth. You may choose to use a store-bought product such as a whitening toothpaste or an over-the-counter product. But for the best results, seek out a professional whitening treatment from your San Francisco cosmetic dentist. At Glen Park Dental, we now offer GLO® whitening, a state-of-the-art whitening system that you can receive in our dental office in San Francisco or from the comfort of your own home. Read on as we answer 10 frequently asked questions about GLO® whitening.
How bright will my teeth get with GLO® whitening?
Using a combination of warm heat acceleration, a powerful whitening gel, and a blue LED light, the GLO®whitening system can whiten teeth by as many as 10 shades. Keep in mind that each person's tooth enamel is different; thus, results can differ. If you've not reached your desired brightness, just continue to use GLO® whitening as directed.
Can I use GLO® whitening while I am going through orthodontic treatment?
If you have braces, then you will need to wait until you've completed orthodontic treatment to begin using the GLOâ system. This is because the placement of the brackets prevents an even application of the whitening gel, creating discolored spots once the braces are removed. However, if you are receiving orthodontic treatment through the use of removable aligners such as Invisalign, you can apply the whitening gel while the aligners have been removed, so long as you're wearing the aligners for the recommended 20 hours per day.
Will GLO® harm my existing dental work?
Do you have fillings or crowns? What about a dental bridge or veneers? No matter what kind of restorations you have in your mouth, GLO® whitening will not affect them. However, if your restorations currently are the same color as your teeth and you desire a brighter shade, the restorations will appear darker than your natural teeth after receiving the GLO® treatment.
Should I brush my teeth before applying the whitening agent?
Yes, you need to brush and floss every time—whether you are having your teeth whitened in our San Francisco dental office or at home. Cleaning your teeth allows a more consistent application of the whitening gel, making for more even results.
Can I eat and drink after a GLO® whitening treatment?
You should wait a minimum of 20 minutes to eat or drink anything after you complete your whitening treatment. Generally speaking, the results of any whitening procedure will last longer if you avoid foods and drinks that can stain teeth: red wine, coffee, dark-colored fruits, etc. However, touch-up treatments are usually necessary for most individuals.
How do I achieve the fastest results from my GLO® whitening treatment?
Our in-office GLO® treatments will yield faster results. This is because the whitening agents on these in-office procedures work faster than the take-home products, which whiten teeth more gradually. An in-office procedure can significantly whiten your teeth in less than an hour.
How should I store my take-home GLO® kit?
The GLO®whitening vials do not need to be refrigerated. They remain viable at room temperature, thanks to the patented design of the vials that use a hermetic seal to keep the formula fresh until it is ready to be used.
How long will GLO® results last?
As mentioned, you can avoid certain foods and beverages that stain teeth. You also should avoid using tobacco in any form and maintain a good regimen of dental hygiene: daily brushing and flossing, in combination with visiting your Marin dentist every six months for a check-up that includes a professional dental cleaning and an examination of your teeth and mouth. Do all this, and your results can last a year or longer.
Will my whitened teeth appear natural?
You remain in complete control of the final appearance of your teeth. Before beginning any treatment with the GLO® whitening system, you will want to consult with a Bay Area cosmetic dentist to determine the desired shade you want to accomplish. Then, the GLO® system is used to help you achieve the desired level of whiteness.
Will GLO® whitening increase the sensitivity in my teeth?
The GLO® system uses a special formula that aims to minimize heightened sensitivity for every patient who undergoes the treatment. The unique formulation of the GLO® whitening gel remains on your teeth and away from soft tissues in your mouth, such as your gums. This is true even for patients who experienced increased sensitivity from other whitening products and treatments.
Teeth whitening with GLO® in San Francisco, Oakland, and Marin
Are you ready to whiten your smile quickly, with minimal tooth sensitivity? If so, then you should consider our GLO® whitening system. Just one treatment can transform the entire appearance of your smile. To find out more about our teeth whitening procedures or any of our other treatments in cosmetic dentistry, then schedule a consultation today by calling (415) 585-1500.