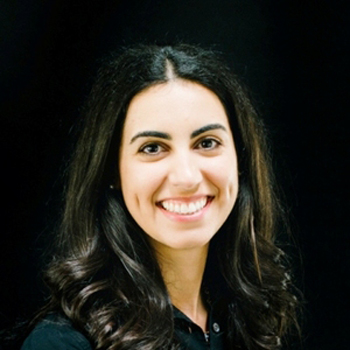 Dr. Ariana Ebrahimian provides orthodontic services at Glen Park Dental.  She brings expertise in Biobloc Orthotropics® for young children and Neuromuscular Functional Orthodontics for teens and adults.  This unique approach is about more than just straight teeth.  It helps maximize overall health by emphasizing healthy jaw joints, an open airway and a balanced facial profile.   Her advanced training in orthodontic services is unique and Glen Park Dental is proud to be the only office in San Francisco offering Biobloc Orthotropics®.  Dr. Ebrahimian firmly believes in early intervention, and screens children as young as age 5 so she can begin assessing their needs to help them build a beautiful, radiant smile.
Dr. Ariana Ebrahimian has advanced training in neuromuscular dentistry and sleep disordered breathing dentistry from The Las Vegas Institute for Advanced Dental Studies (LVI Global) which makes her uniquely qualified to diagnose and treat problems resulting from an improper bite, poor oral posture, or a constricted airway.
Commonly these include headaches, temporo-mandibular disorders (TMD), facial pain, orthodontic problems, and sleep problems. Helping children to avoid these problems later in life is a passion for Dr. Ebrahimian as she witnessed her own sister battle with obstructive sleep apnea.
Qualifications:
DDS: University of the Pacific Arthur A. Dugoni School of Dentistry, San Francisco, CA (Graduated with Honors)
BA: Philosophy, Boston College, Chestnut Hill, MA (Graduated Cum Laude)
Training: Las Vegas Institute for Advanced Dental Studies (LVI Global), Las Vegas, NV
Member: International Academy of Comprehensive Aesthetics, American Academy of Craniofacial Pain, American Academy of Dental Sleep Medicine, North American Association of Facial Orthotropics® (founding member), American Dental Association, California Dental Association, Monterey Bay Dental Society
Treasurer: North American Association of Facial Orthotropics
Co-Founder: Pacific Dental Mission
Certified: Invisalign® , Pure Power Mouthguard (PPM), Biobloc Orthotropics®, SomnoMed Preferred Provider
Educator: Lectures to local dentists and healthcare professionals about neuromuscular dentistry, facial growth guidance, sleep disordered breathing and Biobloc Orthotropics®