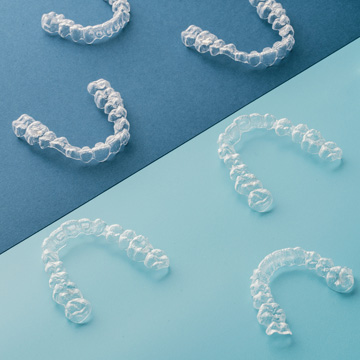 San Francisco, Marin, and Oakland, CA
Many people seek orthodontic treatment to obtain straighter teeth and a confident smile. Not only do straight teeth instill confidence, but they also help improve your oral health since they are easier to keep clean. You've probably heard about braces, those metal brackets and wires used to gently force teeth into proper alignment. But another orthodontic option is Invisalign, which are clear plastic aligners designed to apply pressure similarly as braces but without all of the metal. There's some false information about Invisalign floating around on the Internet. So today on the blog, San Francisco dentists bust four common Invisalign myths.
Invisalign cannot straighten severely crooked teeth
One common assumption about Invisalign is that it's only ideal for patients with minor tooth misalignment. While results can be achieved quickly for those with minimal misalignment, that doesn't mean Invisalign won't work for more severe cases. Invisalign can close unwanted gaps, correct underbites, crossbites, and open bites, as well as straighten crowded teeth. The best way, however, to determine if Invisalign is right for you is to schedule a consultation with an Invisalign provider in San Francisco.
Invisalign takes longer to achieve results than regular braces
This is not necessarily true in all cases. In fact, many times, it takes longer to achieve results with braces, with the average treatment length lasting about two years. Some patients may be able to achieve results in as little as six months, while the average takes about 12-18 months. Your treatment plan will be unique to your dental needs and outlines the timeline for when you should expect to see results.
Invisalign is only for adults
Invisalign offers a treatment program for children with mixed dentition (which means both baby and adult teeth). It can prevent pre-existing bite issues from worsening, straighten existing tooth misalignment, and helps curb thumb sucking or tongue thrusting. Traditional Invisalign is also available for teens that may want an alternative to metal braces. It's never too late in life to get orthodontics. Regardless of age, schedule a consult with our Invisalign providers in the Bay Area if you're curious whether clear orthodontics is right for you or your child. Additionally, an early orthodontic evaluation for younger children is ideal to potentially lessen the chance of needing orthodontics later on in life.
DIY aligners are just as effective
Mail order clear aligners may be more affordable, but our San Francisco Invisalign providers advise against DIY aligners. There are reasons why you should see a board-certified dentist in person when undergoing orthodontic treatment. DIY aligners could end up causing more harm than good or even lead to tooth loss. In some cases, patients that opt for DIY aligners end up spending more money in the long run by having to go to a dentist to correct damage from the DIY aligners.
Invisalign in Marin, Oakland, and San Francisco, California
If you're interested in Invisalign to straighten your crooked teeth or want to find out if clear aligner orthodontics is right for you, contact Glen Park Dental by calling (415) 585-1500. If it is determined that Invisalign is the best orthodontic treatment option for you, we will begin by taking digital scans and photographs of your teeth that are used to fabricate your custom sets of aligners. Quit guessing, and find out if Invisalign is right for you by contacting us today!