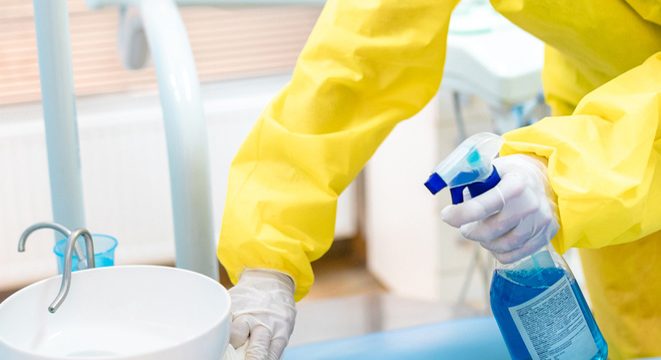 San Francisco, Marin, and Oakland, CA
The coronavirus pandemic sparked a lot of fears in the minds of many people. Government officials advise, and in some places require, us to stay home and avoid going out into the public unless it's necessary. But what about routine dental care or emergency dental concerns? California has been one of the hardest-hit states by the pandemic in terms of active COVID cases, but dental appointments are still necessary. Your chances of getting COVID at the dentist are pretty low, according to research. Today on the blog, find out what our Bay Area dentists are doing to keep patients safe from COVID.
At Glen Park Dental, we take the safety of our patients and team members seriously. We've long since taken tremendous steps to mitigate spreading infectious diseases, even before the coronavirus surfaced. As research reveals, dental offices are one of the least likely places to catch the virus, despite the fact that the virus is airborne and we're working in people's mouths every day.
Here are the additional precautions we are taking to keep you and our team safe
Appointment Pre-Screening
Postpone Treatment for Sick Individuals
Socially Distanced Waiting
Face Coverings Required
Temperature Checks at the Door
Uphold and Enforce OSHA Infection Control Standards
Disinfect high-touch areas throughout the office
Removed all magazines and pamphlets from our waiting area
It's essential that patients not skip routine dental checkups for fear of COVID. The risk of transmitting or catching COVID-19 from a trip to the dentist is extremely low. In fact, there is a much greater risk of getting sick when you go to the grocery store, assemble in small social groups, or send your kids to school. Maintain good oral health between dental office visits by remaining committed to brushing twice a day and flossing daily. Stick to a healthy diet that is low in sugar and refined carbohydrates, and consume beverages that are sugar-free or low acidity.
During your dental checkup and cleaning, the dentist will evaluate your oral health to determine if there are any immediate concerns that need addressing to prevent your dental condition from worsening. Cavities, gum disease, failing dental restorations, and even oral cancer are things that the dentist looks for during your checkup. Our dental hygienist thoroughly cleans your teeth to remove tartar buildup, the foundation of cavities and gum disease. These conditions worsen if ignored and could lead to dental pain, toothaches, and potential tooth loss.
Everyone gets tartar buildup, and the only way to remove it is by a professional dental cleaning. For most patients, a cleaning once every six months will suffice, but other patients, like those with gum disease, may require more frequent cleanings to minimize the damage harmful bacteria may be causing to their gums.
General Dentists in the Bay Area
If you're looking for a clean dental office in San Francisco, or want to schedule an appointment with a dentist that is open during COVID, contact Glen Park Dental by calling (415) 585-1500. Our caring team of dental professionals is waiting to help you achieve a beautiful, healthy smile while ensuring your health and wellness during the pandemic.