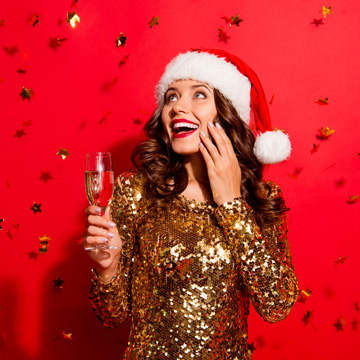 San Francisco, Marin, and Oakland, CA
Most people desire a brighter, whiter smile, especially around the holidays. It's the time of year when you meet up with old friends or relatives that you haven't seen in a long time or attend holiday parties for work, and so it's natural to want to feel confident. While you may have good intentions to achieve a nice smile, you could be sabotaging your efforts. So today on the blog, our Bay Area cosmetic dentists at Glen Park Dental share five ways to make your smile sparkle for Christmas.
Watch what you eat
What you eat has a significant impact on how your teeth look. Processed foods and foods high in sugar increase your risk of cavities. Therefore, you should limit your consumption of things like chips, crackers, desserts, sodas, and candy. Additionally, highly acidic foods like wine, berries, coffee, and dark tea can stain enamel or cause acid erosion, causing your teeth to look dingy and yellow. It's best to consume these foods in moderation or less frequently. You could also drink water along with eating or drinking these foods, which helps rinse away acid and sugar (but it doesn't replace brushing and flossing). Be sure to brush your teeth within 20 minutes to help reduce your risk of teeth stains.
Avoid using tobacco (in any form)
Smoking, chewing tobacco, or vaping can harm your overall health and are proven to damage your teeth and gums too. Nicotine and tar accumulate on your teeth, leading to stains. Tobacco also dries out the mouth, which can cause halitosis (bad breath) and increases your risk of cavities and gum disease. Another good reason to quit smoking is that nicotine is a vasoconstrictor, which slows blood flow and impedes healing anywhere in the body, including the gums. Therefore, if you truly desire a healthy smile with white teeth, ditch the tobacco and enjoy a confident smile and improved health. Kicking the habit can be challenging for some. So, speak to your doctor about a smoking cessation program if you need help quitting.
Practice excellent oral hygiene daily
Caring for your teeth on a daily basis can help reduce stains and your risk of cavities and gum disease. Ideally, you should brush your teeth twice a day and floss daily after your last meal to remove stuck-on plaque and bacteria that could damage your teeth. If you're able to brush after lunch, too, even better. But remember to brush when you wake up and before bed, so you aren't bathing your teeth in bacteria all day (or night) long.
Get your teeth cleaned twice a year
This is the one part where people often drop the ball. They figure as long as they eat fairly well (avoiding too much sugar) and take decent care of their teeth at home, why see the dentist? After all, "If it ain't broke, don't fix it." But unfortunately, that philosophy should not apply to your oral health. Just like the rest of your health, prevention is essential. It's better to prevent oral disease and damage to your teeth rather than be reactive to oral health problems or discomfort. Therefore, commit to seeing your dentist in Marin twice a year for checkups and cleanings. These appointments are an opportunity to find out if an oral health problem arises, and so you can nip it in the bud immediately, instead of finding out about the issue by experiencing a toothache or dental emergency. Plus, twice-yearly dental cleanings remove tartar buildup, a by-product of oral bacteria combined with foods we eat. Everyone gets tartar buildup, even people who take excellent care of their teeth at home.
Opt for professional teeth whitening
Still longing for brighter teeth? You can feel as though you're doing everything right in terms of taking excellent care of your teeth yet still have a dingy or yellowing smile. If this is the case, opt for professional teeth whitening in San Francisco for a bright, white smile that boosts your confidence. Our in-office teeth whitening can be done on your lunch break so that you're ready to wow guests at your next holiday gathering.
Cosmetic Dental Office in the Bay Area, Marin, and San Francisco
If you're looking for ways to achieve brighter, whiter teeth that sparkle for Christmas, look no further than Glen Park Dental. To learn more, call Glen Park Dental at (415) 585-1500 to schedule a consultation. During this appointment, we can discuss your smile needs to find the right solution for you so that you can smile with confidence this holiday season and beyond.