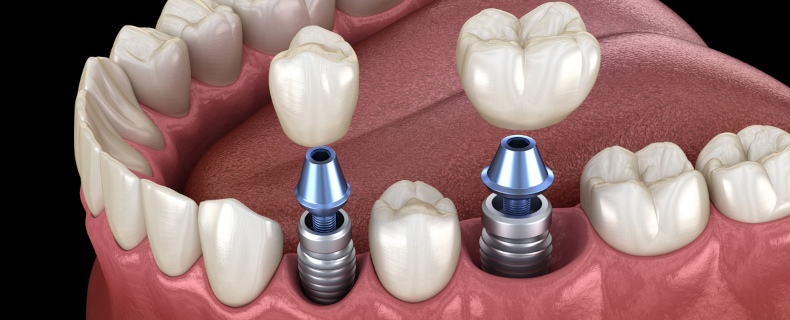 San Francisco and Marin CA
Dental implants are gaining popularity in the cosmetic dentistry field as a permanent solution for missing teeth. Dentists must tailor their recommendations for treatment to the specific needs and circumstances of each patient, whether they need one missing tooth replacement or a mouthful. Our Marin implant dentists at Glen Park Dental share more information about dental implants and how many you can get to replace your missing teeth.
Dental Implant Role
A dental implant is a replacement for a missing tooth or teeth that allows the patient to maintain their oral health and keep on with normal activities like eating, speaking, and chewing. Cosmetic enhancements, like fixing a less-than-perfect smile, can also benefit greatly from them. Our implant dentists in the Bay Area explain that due to the titanium post that serves as the artificial tooth's root, implants are regarded as one of the most reliable options. By fusing with the jawbone after being implanted, the implant post provides a strong foundation for the dental crown, which boosts significant durability.
How Many Implants
The number of implants that can safely be placed in a single appointment depends on the individual patient's situation and anticipated healing time. It's not uncommon for individual teeth to be replaced as they are lost or extracted in contemporary dentistry. But if a patient has multiple teeth that need to be replaced, it may be more convenient to do so all at once. Additionally, some implant systems are designed to replace an entire arch of missing teeth with only four implants instead of single posts for every missing tooth.
Since our Marin implant dentists will administer a local anesthetic to the implant site, the procedure itself is not. However, post-procedure discomfort and aches are possible. Tenderness after tooth replacement may be more noticeable if several teeth are done at once, but the best implant dentists in Marin provide post-op care instructions to help minimize your discomfort afterward.
Implants for Bridges or Dentures
A dental implant-supported bridge may be a viable option for patients who need multiple teeth to be replaced. A dental bridge consists of two or more false teeth fused to fill in the space created by the missing teeth. Dental implants can be used to secure dentures instead of relying solely on bone support. Due to the interconnected nature of artificial teeth, only a few implants need to be inserted into the jaw to secure the prosthesis. Dentures will have increased strength and stability thanks to the implants
Dental Implants in Marin, Oakland, and San Francisco, California
Although many options exist for those in need of dental implants or dentures, not every patient can benefit from every procedure. The feasibility of getting dental implants depends on your jaw's health and structure and considering the associated costs. However, our Bay Area implant dentists will determine the best treatment for your oral health, no matter if it's a bridge, one implant, or a new smile with implant-supported dentures. To find out more about dental implants or to schedule an implant consultation, please call Glen Park Dental at (415) 585-1500 or contact us online to request an appointment today.