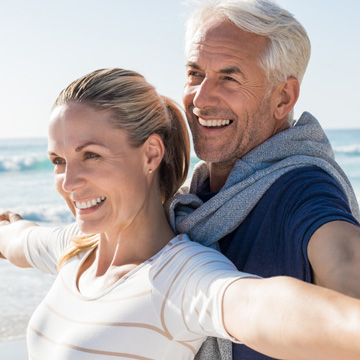 San Francisco, Marin, and Oakland, CA
Dentures are historically one of the most common treatments for patients who no longer have a full set of teeth. The acrylic base with false porcelain teeth sit on your gums and provides basic functionality. However, dentures can slip when speaking or eating and possibly result in embarrassment during social situations. With the development of treatments in the dental industry, there are more permanent and longer-lasting solutions to restore your smile. Your leading San Francisco dentists at Glen Park Dental share three reasons to upgrade your dentures to dental implants.
Dental Implant Benefits
Strength and Stability
Marin implant dentists at Glen Park Dental recommend dental implants as the preferred treatment for missing teeth because they provide strength and stability. Dental implants use a titanium post that is surgically inserted into your jawbone. Through a process called osseointegration, the post fuses with the bone and becomes permanent. Therefore, your dental implant will not shift or slip, unlike traditional dentures. As a bonus, your jawbone maintains its integrity with dental implants instead of disintegrating, resulting in a sunken appearance.
Discreet
Dental implants mimic the look, feel, and performance of your natural teeth. After the placement of the titanium post, the dental crown is color-matched to your natural tooth shade cover the top of the post. The dental crowns look and feel like natural teeth, so smiling, eating, speaking, or yawning appears natural, and the risk of embarrassment from slipping is non-existent. Therefore, your Oakland dental implant dentists will be the only one who knows about your restored smile unless you tell others you have dental implants.
Practical
Dental implants are very practical for most patients who want to upgrade from dentures. Since dental implants work like your natural teeth, you can resume eating foods that may have posed complications while wearing dentures. Your professional San Francisco implant dentists at Glen Park Dental warn that dentures and partials have a shorter lifespan requiring repair or replacement. Also, with dental implants, you no longer need solutions to clean your dentures or adhesives to secure your dentures while speaking or eating safely. Therefore, you can travel lighter and spend less money on additional oral care necessities.
Are dental implants the right choice for you?
Each patient's case is different, so there is not a straight answer to the question. A dental exam by your leading dentist in Marin at Glen Park Dental can provide the needed information to determine your eligibility for dental implants. Children should not have dental implants as their jawbone is still developing until they become teenagers. Also, patients who suffer from gum disease should not have dental implants as the condition can affect the healing process and success of the implant. In some cases, a patient's jawbone density is not strong enough to support implants, and a bone graft must occur before the implant process can proceed. Therefore, the best way to find out if dental implants are right for you is to schedule an appointment today.
Dental Implants in Marin, Oakland, and San Francisco, California
Dentures are a cost-effective way to replace your missing teeth temporarily. However, if you want a more permanent solution that makes you feel totally confident, dental implants may be right for you. To find out more information about dental implants or schedule an appointment to see if implants are right for you, feel free to call Glen Park Dental at (415) 585-1500 or request a consultation online.