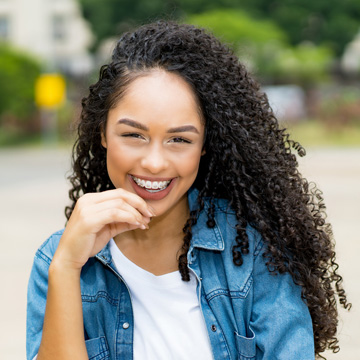 San Francisco, Marin, and Oakland, CA
Modern orthodontics dates back to French dentists in the 1700s. Medical science has improved by leaps and bounds since then, of course, but for the most part, when straightening your teeth through orthodontics, braces remain the standard method of treatment. Today, braces are more convenient and comfortable than ever, but you still might be wondering if they are worth it. In this article, your experienced San Francisco dentists at Glen Park Dental take a look at the payoffs of getting braces, and while we feel they justify the cost.
The Advantages of Getting Braces
Braces straighten crooked teeth, preventing any issues later in life, such as a misaligned bite, TMJ disorder, snoring, and sleep apnea.
Once teeth are straightened, it's easier to chew food, alleviating any discomfort that may take place while eating.
Realigning your teeth can address speech problems, and with them, any social anxiety or embarrassment stemming from a speech impediment.
Straightening teeth avoids overcrowding, which can raise your risk of cavities and other potentially serious dental issues.
Your self-confidence and self-esteem rise. You feel better about your smile and are more likely to show it.
Calculating the Cost of Braces
No two patients are alike and, at Glen Park Dental, we evaluate each individual and each treatment on a case-by-case basis. We offer braces as well as Invisalign and even functional orthodontic treatment. When you choose to get braces in San Francisco from our office, know those braces are made with ceramic, tooth-colored brackets. These brackets are matched to the shade of your existing, natural, healthy teeth. Patients report these ceramic brackets are more comfortable and also less noticeable.
The total cost of braces is determined by three factors:
Length of treatment time – When you receive braces, you can expect to wear them for at least a year, but significant orthodontic adjustment could take two years or longer to complete. These treatment timeframe estimates may need to be adjusted if your teeth do not move as expected. Staying in contact with your San Francisco dentist and coming to our office for follow-ups will help keep the timeline as accurate as possible.
Degree of misalignment – It stands to reason that the greater the issues with alignment, the more intensive the treatment will be to fix the problem, the longer it will take, and the more it will cost. Your orthodontic outlook will be evaluated before the braces are placed.
Related dental care – Certain procedures may need to be completed before receiving braces. For example, there may be an additional issue that has to be corrected, such as filling a cavity or treating an existing infection of gum disease. These treatments should be factored into your total cost.
Braces in San Francisco
At Glen Park Dental, we pride ourselves on providing "beautiful smiles for life" for our patients in the areas of Marin, Oakland, and San Francisco in California. Getting straighter teeth through orthodontics improves the appearance of your smile while also protecting your oral health. To learn more about braces or our orthodontic treatment program in the Bay Area, schedule a consultation by calling (415) 585-1500.