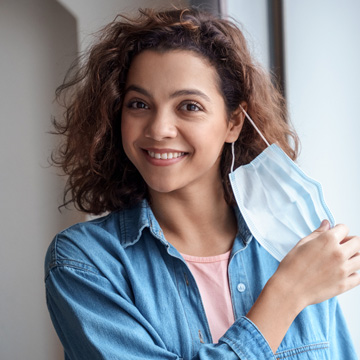 San Francisco, Marin, and Oakland, CA
Mask mandates are being lifted as COVID cases decrease and people become vaccinated. This means that you'll see lots of smiles, and others will see yours too. They say that a person's smile is the first physical aspect that others notice. What does your smile say about you? If you're unhappy or feel embarrassed by the look of your teeth, it may be time to take action. Today on the blog, our Bay Area dentists share three ways to improve your smile after the pandemic.
Get your teeth cleaned
Removing tartar buildup and stains through professional dental cleaning is the first step in rejuvenating your smile after the COVID pandemic. Dental cleanings and checkups are necessary for everyone, even children. The American Dental Association recommends these visits once every six months. The purpose of these visits is to clean the buildup from your teeth and gums thoroughly. While good at-home brushing and flossing is necessary for maintaining oral health, everyone gets tartar buildup, which can only be removed by a dental cleaning. The checkup portion of your visit allows the dentist to identify any potential dental problems like cavities, early signs of gum disease, or other dental problems that need fixing. During COVID, many people opted not to go to the dentist unless it was an emergency. So, if it's been more than six months since your last cleaning and checkup, it's time to book an appointment.
Fix dental problems
Dental problems like cavities, broken or chipped teeth, and gum disease should be fixed when first discovered. If not, the problem worsens, and end up costing more to fix, and may even lead to discomfort or pain. Small cavities can be repaired with a filling. Moderate tooth damage can usually be fixed with a dental crown or other restoration. But if ignored, these issues may manifest into significant damage. Stay on top of your dental care by receiving checkups twice a year and fix dental problems when they first appear.
Ask your dentist about cosmetic dentistry
If you've been unhappy with how your smile looks, ask your Bay Area cosmetic dentist about treatment options to improve your smile. Cosmetic dentistry has come a long way in recent years. Results can look completely natural and oftentimes can be achieved within a couple of weeks. Veneers, dental bonding, and teeth whitening are several of the most common cosmetic dental treatments to fix chipped, uneven, gapped, or stained teeth. A consultation with our San Francisco cosmetic dentists is the first step in deciding which treatments are right for you. Got an important engagement coming up? Book your consultation right away so you can be on your way to an improved smile post-pandemic.
Cosmetic Dentists in San Francisco, Marin, and Oakland
Now that we are on the flip side of the pandemic, masks are coming off, and life is getting back to normal. It's time to rejuvenate your smile and ensure you're putting off the best first impression. Learn more about cosmetic dentistry or schedule an appointment for a cleaning by calling Glen Park Dental at (415) 585-1500.