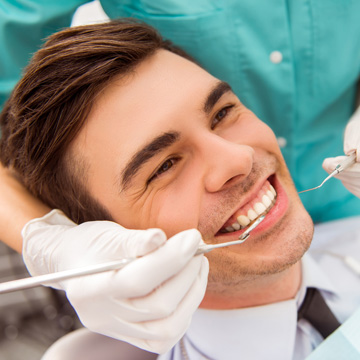 San Francisco, Marin, and Oakland, CA
A new year signifies a time to renew yourself. Whether you choose a weight loss program, try to drink more water, or want to improve your smile, the new year is the most common time to begin something again. Unfortunately, most New Year's resolutions fail before fruition, but when you plan on revamping your smile, it can change your self-esteem and confidence. Therefore, our San Francisco cosmetic dentists at Glen Park Dental share on the blog today multiple ways you can improve your smile to experience a new year, new smile, and new you.
Teeth Whitening
Although your teeth are the strongest substance in your body, they are still susceptible to damage and discoloration. Dark color pigments stain your teeth as you consume foods and beverages with dyes or natural colors, like coffee, tea, or wine. The continuous staining can cause severe discoloration, leaving you with a dingy smile. Fortunately, our Marin cosmetic dentists offer Zoom! teeth whitening to brighten your smile in one visit without causing sensitivity. In some patient cases, pre-filled trays for at-home touch-ups are necessary.
Dental Bonding
Dental bonding is the most versatile and economical cosmetic treatment to address multiple cosmetic concerns. Bonding is flexible and color-adjustable due to the material make-up and can mold to any shape your patient needs. Therefore, the results provide a seamless color, shape, and size that match your surrounding teeth.
Our cosmetic dentists in Oakland can address the following conditions:
Repair small fractures
Adjust minor tooth crookedness
Replace old or failing fillings
Repair cavities or tooth decay
Close gaps or spaces between teeth
Protect exposed tooth roots from receding gums
Alter teeth that are misshapen, discolored, or too short
Most dental bonding treatments can occur in one office visit. You can leave our San Francisco dental office with a renewed sense of confidence without breaking the bank.
Veneers
Addressing your smile aesthetics without addressing tooth alignment concerns can happen using veneers. Dental veneers are a robust, thin shell-like material that's bonded to the front of your teeth. Our cosmetic dentists in San Francisco offer porcelain veneers that are durable, stain-resistant, have translucent qualities, and are non-invasive. While the results are incredibly natural, veneers will not last forever, but you can extend their lifespan with proper dental care of brushing twice a day and flossing once daily, and visiting your dentist for regular checkups and cleanings every six months.
Dental Crowns
Teeth that sustain significant damage, decay, or suffer injury may receive a dental crown to protect the dentin, the nerves, and root structure. In addition, dental crowns are best for restorative dentistry treatments, such as strengthening broken or fractured teeth, rebuilding weak, short, brittle, or misshapen teeth, and regenerating a bite surface to reinstate functionality. The crowns used in our Oakland dental office are available as porcelain-fused-to-metal and metal-free crowns for patients with a metal allergy.
Cosmetic Dentists in Marin, Oakland, and San Francisco, California
A smile is universal; it has the same meaning in all languages. So make it a great message full of happiness and joy with a new smile for the new year. To find out which treatment is best for your needs, feel free to contact a skilled San Francisco cosmetic dentist at Glen Park Dental by calling (415) 585-1500 or requesting a consultation online today. We look forward to helping you in the new year with a new smile so you can be a new you!