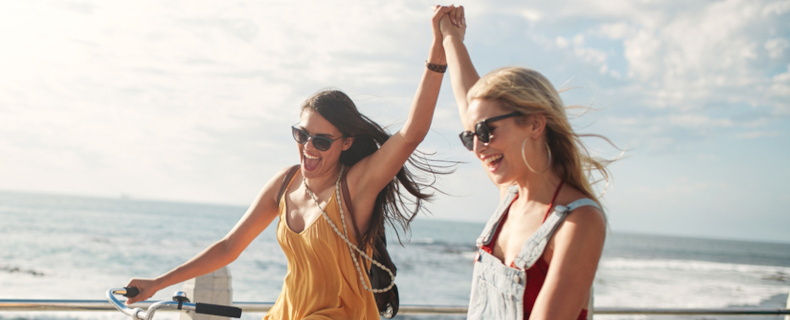 San Francisco, Marin, and Oakland, CA
Summer will be here before we know it and, as we return to a greater sense of normalcy following the pandemic, that means this summer should be a season for socializing. Many of us have a couple of years' worth of vacations, get-togethers, celebrations, and parties to catch up on… and these events often mean plenty of photos will be taken. When someone at a social gathering whips out their phone for a selfie, do you feel the need to close your mouth? If you're self-conscious about the appearance of your smile, you're not alone. You also have options. Keep reading to learn about how the Marin cosmetic dentists at Glen Park Dental can give you the confidence of a fabulous smile in time for summer.
The Versatility of Veneers
Cosmetic dentists have been using veneers for decades to improve smiles. Veneers are placed across the front of the tooth or teeth being treated. They can cover a variety of small imperfections in teeth, including chips, cracks, small fractures, and discoloration that might be resistant to whitening procedures. Receiving veneers is a minimally invasive process that involves removing just a small portion of the existing tooth structure, so the veneer can make a flush bond against the front of the teeth.
The Benefits of Bonding
Dental bonding is one of the most economical and convenient options available from cosmetic dentists in Oakland. Bonding can address many of the same issues that veneers do, but bonding is usually less expensive—although veneers produce more lasting results. A bonding treatment also can be completed in a single appointment, usually in about an hour. Your dentist places a resin on the tooth or teeth being treated that is matched to the preferred shade. The resin is hardened under a special ultraviolet light, then polished and shaped to complete the process. The results are natural looking and blend with your other teeth.
The Difference of Whiter Teeth
Brightening your teeth by just a few shades can make a dramatic impact in the appearance of your smile. You can buy products over the counter that claim to whiten your teeth, such as toothpaste, oral rinses, or teeth whitening kits. However, most patients will not experience noticeable changes in the color of their teeth when using store-bought products. The better option is to have a professional whitening treatment done by a qualified, experienced cosmetic dentist in Oakland. At Glen Park Dental, we offer GLO® teeth whitening. This state-of-the-art treatment method combines warm heat acceleration, a powerful whitening gel, and a blue LED light to produce dazzling results. The GLO® system has a low risk of causing enhanced sensitivity. It's also a vegan product that is alcohol-free. The take-home kit is perfect for on-the-go teeth whitening. Some users may experience results up to 10x whiter than before.
Ready for your smile makeover?
Maybe you need multiple cosmetic dental procedures to achieve your goals. At Glen Park Dental, we offer a smile makeover. This is a customized, comprehensive dental treatment plan that combines cosmetic procedures to meet the aesthetic goals of each individual patient. We tailor each smile makeover to cosmetic objectives, as well as your oral health, finances, and schedule. No two smile makeovers might be the same, but we strive for the end result each time—a great-looking smile!
Cosmetic Dentistry in Marin, Oakland, and San Francisco
Many dentists offer cosmetic dental procedures, but cosmetic dentistry is a specialized area of the field that is not taught in dental schools. A true cosmetic dentist has studied the principles and techniques of the specialization. When you choose a cosmetic dentist, you want to choose one who has completed this post-graduate training and education. Glen Park Dental has the skilled, experienced cosmetic dentists you want to help you achieve your goals and have your smile selfie-ready for summertime. To find out more, call (415) 585-1500 to schedule your consultation.